Lossless Video Codecs Comparison '2007
Project head: Dr. Dmitriy Vatolin
Testing, analysis: Iwan Seleznev
Verification: Dr. Maxim Smirnov
Tested codecs
Alpary
ArithYuv
AVIzlib
CamStudio GZIP
CorePNG
FastCodec
FFV1
Huffyuv
Lagarith
LOCO
LZO
MSU Lab
PICVideo
Snow
x264
YULS
Comparison Content
The main goal of the performed comparison is getting answers on the following questions regarding lossless video codecs:
What codec or codecs are best for video capture and video editing applications?
What codec or codecs achieve the best compression ratio?
What advantages multithreading gives to modern codecs supporting it?
Only absolutely lossless codecs were examined in this comparison. Only progressive test video sequences were used.
Main conclusions:
In Video Capture and Video Editing Area the overall clear winner is Lagarith.
In Maximum Compression area the overall winner is YULS.
The most balanced and flexible codec is FFV1: relatively good speed and high compression for various presets.
The comparison paper is 130 pages long and contains a lot of graphs to facilitate analysis like this one: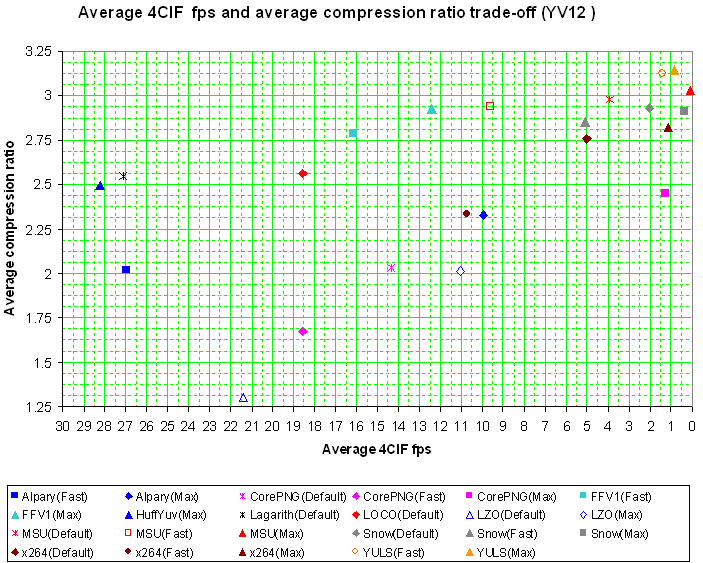 Download
Lossless Codecs Comparison '2007 - PDF (1.71 Mb)
Lossless Codecs Comparison '2007 - ZIP (1.5 Mb)
Contacts
See Also