VirtualDub MSU Subtitle Remover
Project, ideas: Dr. Dmitriy Vatolin
Version 1.2 (MSU Subtitle&Logo Remover): Dmitriy Kulikov
Version 2.0b (MSU Subtitle Remover): Dmitriy Kulikov, Sergey Putilin
Version 3.0beta2 (MSU Subtitle Remover): Dmitriy Kulikov, Sergey Putilin, Yuriy Berdnikov
New version of filter for LOGO removal is here MSU Logo Remover
This filter is a plugin for VirtualDub (Free!)
New MSU Subtitle Remover 3.0 beta2 is available! Download filter now Unpack this file in VirtualDub "Plugins" folder.
Please read User Manual before E-Mailing us
What`s new in 3.0 beta2?
Fixed bug with "upside-down detection areas"(Thanks for your feedback!)
Fixed minor bugs with highly compressed video
New processing mode - single pass, no temporary files. Filter became more user-friendly
What`s new in 3.0 beta?
New detection algorithm - works up to 2 times faster with less memory usage and better quality
Improved removing algorithm
Main filter ideas:
Static subtitles - text doesn`t move for some time
2-Pass or single-pass mode - Detection and removing
Possibility of external mask editing
Two subtitle removing methods
Blur (Spatial extrapolation)
Motion compensation for correct subtitle area filling (Effect of objects "crawling" over the subtitles)
Settings
See filter User's Guide for more details

Screenshots
Examples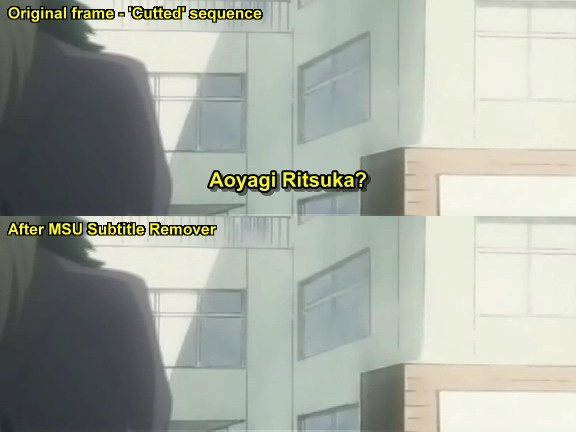 Cutted sequence, 10th frame after subtitle appearing, fast linear camera motion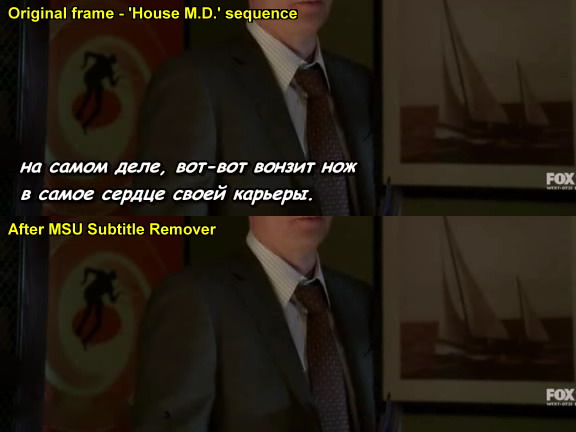 House M.D. sequence, 12th frame after subtitle appearing, scene change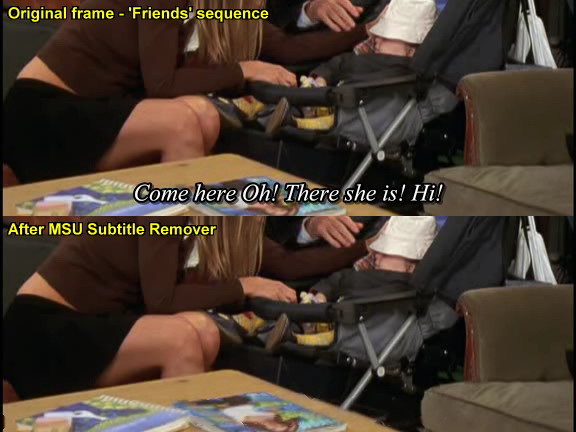 Friends sequence, 17th frame after subtitle appearing, camera shaking and slow motion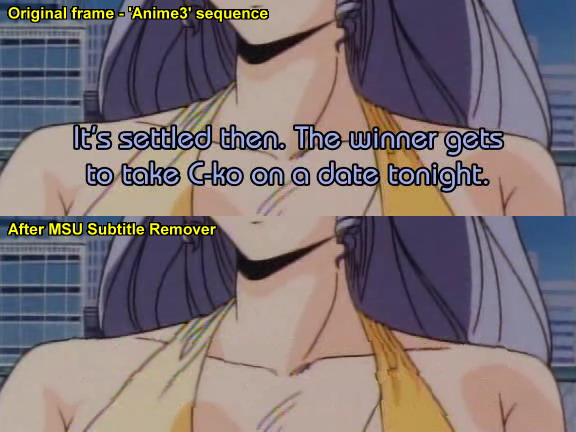 Anime3 sequence, 17th frame after subtitle appearing, high camera shaking
Speed tests

Speed comparsion of different versions. Measured on AMD Athlon 2200+
Version history
3.0 beta2 - Bugfixes, new single-pass processing mode
3.0 beta - Filter completely redesigned: new detection algorithm, improved removing algorithm
2.2 - 2.2 - fixed bug with VirtualDub crashing
2.1 - fixed bug with selecting color for subtitles
2.0 - first version of new algorithm
Download
Contacts
See Also