VQMT3D Project: Report 3 on 3D-video Quality Analysis
Projects, ideas: Dr. Dmitriy Vatolin
Implementation: Alexander Voronov, Denis Sumin, Marat Arsaev, Vyacheslav Napadovsky, Alexander Bokov, Alexander Belous, Alexey Shalpegin, Vladimir Yanushkovsky
In cooperation with IITP RAS
About the Report
The report presents detailed (305 pages) evaluation results of 5 S3D films, which were converted to S3D format in post-production.
Analysed films

Examined problems:

Alice in Wonderland (2010)
Clash of the Titans (2010)
Conan the Barbarian (2011)
Green Lantern (2011)
Abraham Lincoln: Vampire Hunter (2012)

Edge-sharpness mismatch
Cardboard effect
Excessive horizontal disparity
Vertical disparity
Color mismatch
Sharpness mismatch
The report comprises four main parts:
Visualization of a frame from The Avengers. It is clearly visible that the utilized background-reconstruction algorithm lacks quality: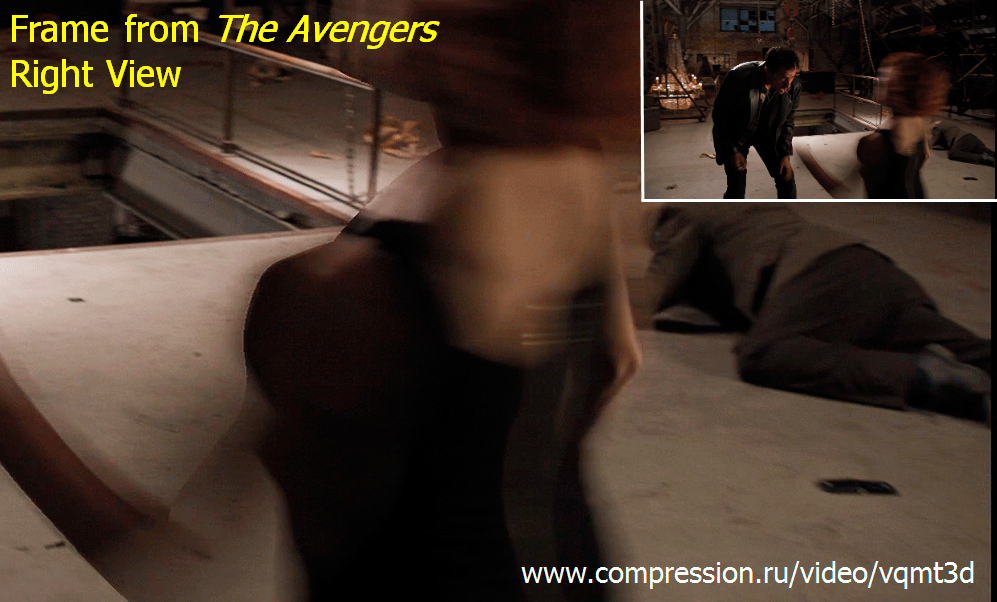 Professional stereographers contributed to the analysis with valuable comments and feedbacks.
Contributed Stereographers
(in alphabetical order)
Robert Black, 3D R&D, 3D Consultant / Stereographer
Ross Copeland, Online Editor / Stereographer & Colourist, Post Production Consultant
Andrew Enyart, Stereographer, VFX Supervisor
Srboljub Hetlerovic, Stereographer, VFX Supervisor
Jon Karafin, Senior Scientist and Director of Production Technology at RealD
Greg Passmore, Director, PassmoreLab
Daniele Pugni, 3D Motion Graphic Designer Freelancer for Sky 3D Channel—Sky Italia SRL
Overall evaluation results
In this section we present selected overall comparison charts. We use two main types of charts:
Dot chart which depicts average score of each film according to the metric
Integral histogram which shows distribution of metric values throughout the film
Please, read more about the charts and particular films in the report.
Depth Budget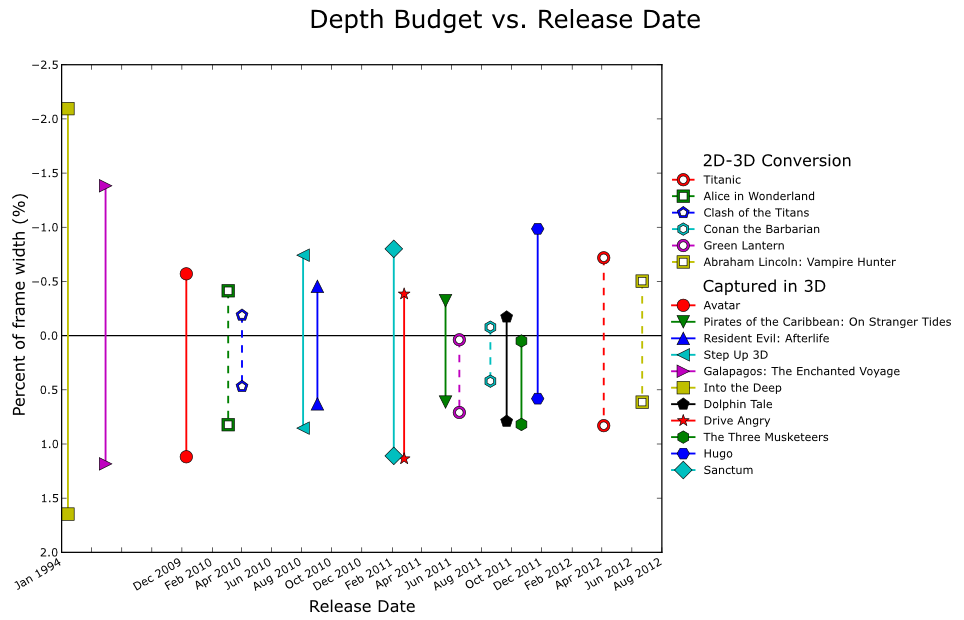 Comparison of average depth budget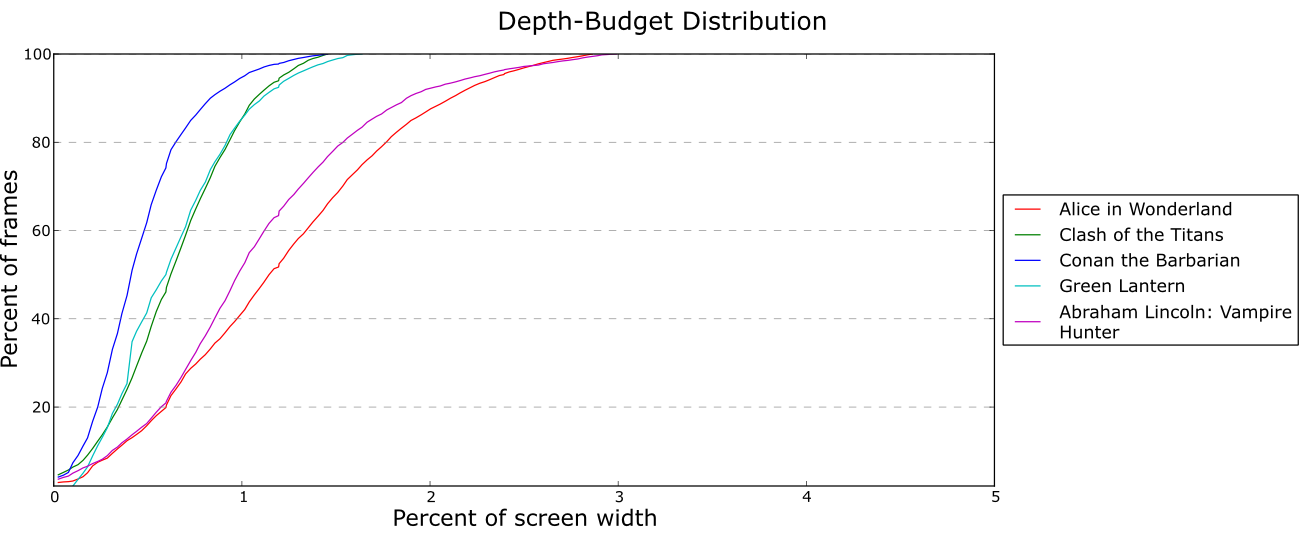 Depth budget distribution analysis
Vertical Disparity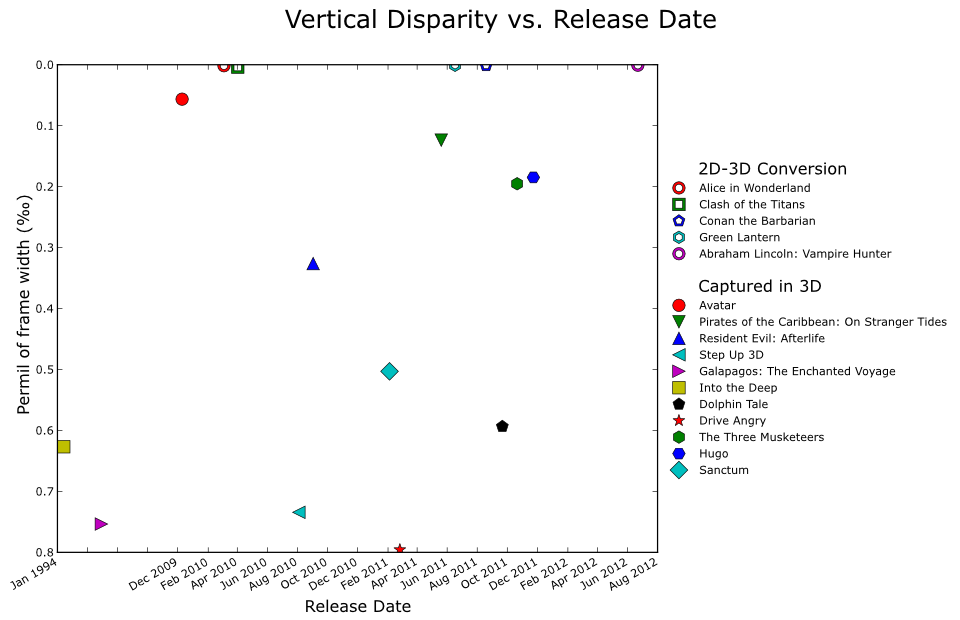 Comparison of average vertical disparity
Color Mismatch
Comparison of average color mismatch
Color mismatch values distribution
Publications
If you want to make a reference to this project, please refer to one of the following publications:
Reports overview
Stereo-analysis project description
Download
Full report (305 pages) is absolutely free but download is available only for industry professionals (due to publication of real mistakes in the post-production process).
To download the report, please fill-in the request form.
You will get the download link for all reports (Reports #1–11) via e-mail.
All materials in this evaluation are used for research purposes and in accordance with Fair Use conditions. This evaluation is not published widely, but it is available for free under a subscription for stereoscopy and cinema technology professionals.
Feedback
Contacts
For questions and proposition please contact us 3dmovietest@graphics.cs.msu.ru
See Also