VQMT3D Project: Report 7 on 3D-video Quality Analysis
Projects, ideas: Dr. Dmitriy Vatolin
Implementation: Alexander Bokov, Alexey Fedorov, Alexey Shalpegin, Alexander Novikov, Alexander Belous, Vladimir Yanushkovsky, Vyacheslav Napadovsky, Denis Sumin, Marat Arsaev, Alexander Voronov
In cooperation with IITP RAS
About the Report
The seventh report is dedicated to the analysis of stereo-window violation issue and use of floating windows in various S3D movies. The report presents detailed (333 pages) evaluation results of 10 S3D films, which were natively captured or post-converted.
Analysed films

Examined problems:

Pina (2011)
Step Up Revolution (2012)
Resident Evil: Retribution (2012)
Hugo (2011)
A Very Harold & Kumar 3D Christmas (2011)
Immortals (2011)
Green Lantern (2011)
Conan the Barbarian (2011)
Wrath of the Titans (2012)
Alice in Wonderland (2010)
The report comprises three main parts:
We thoroughly describe the stereo-window violation effect and how it can be fixed using a floating-window technique. Next we provide a brief explanation of how to understand charts and visualizations in this report.
We offer a detailed analysis of 10 films. This analysis comprises per-frame charts showing floating-window and closest-object disparities for both the left and right borders of the screen. Visualizations of frames with the most noticeable stereo-window violations are provided under the corresponding charts.
The report concludes with an overall film comparison. Here, we show charts depicting the noticeability of stereo-window violations and the intensity of floating-window use for each film.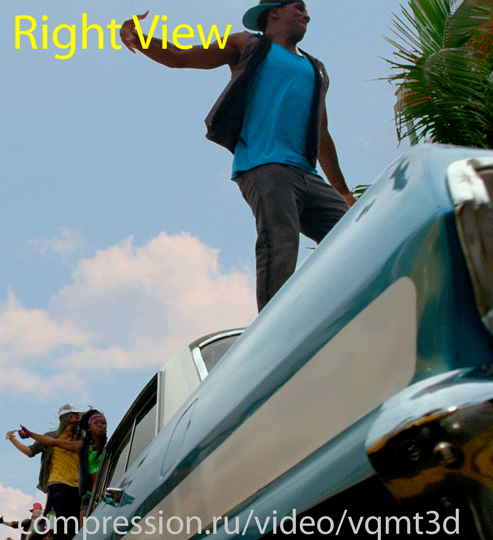 Example of a stereo-window violation
Professional stereographers contributed to the analysis with valuable comments and feedbacks.
Contributed Stereographers
(in alphabetical order; for main part of the report)
Marcus Alexander, Stereoscopic Designer, 3D Producer
Olivier Cahen, Stereoscopic Consultant, Author
Ross Copeland, Online Editor / Stereographer & Colourist, Post-Production Consultant
Markus Lanxinger, Stereographer, Stereoscopic Supervisor
Daniele Pugni, 3D Motion Graphic Designer Freelancer for Sky 3D Channel
Enrico Perei, On-Set/Post Production Stereographer, VFX Supervisor
Fabien Remblier, S3D and 4K Director, Stereographer, Producer
Wesley Sewell, Stereographic Supervisor
Thomas Villepoux, Director, Stereographer
Overall evaluation results
In this section we present selected overall comparison charts.
Please, read more about the charts and particular films in the report.
Stereo Window Violation vs. Release Date
Stereo Window Violation vs. Floating Window Usage Intensity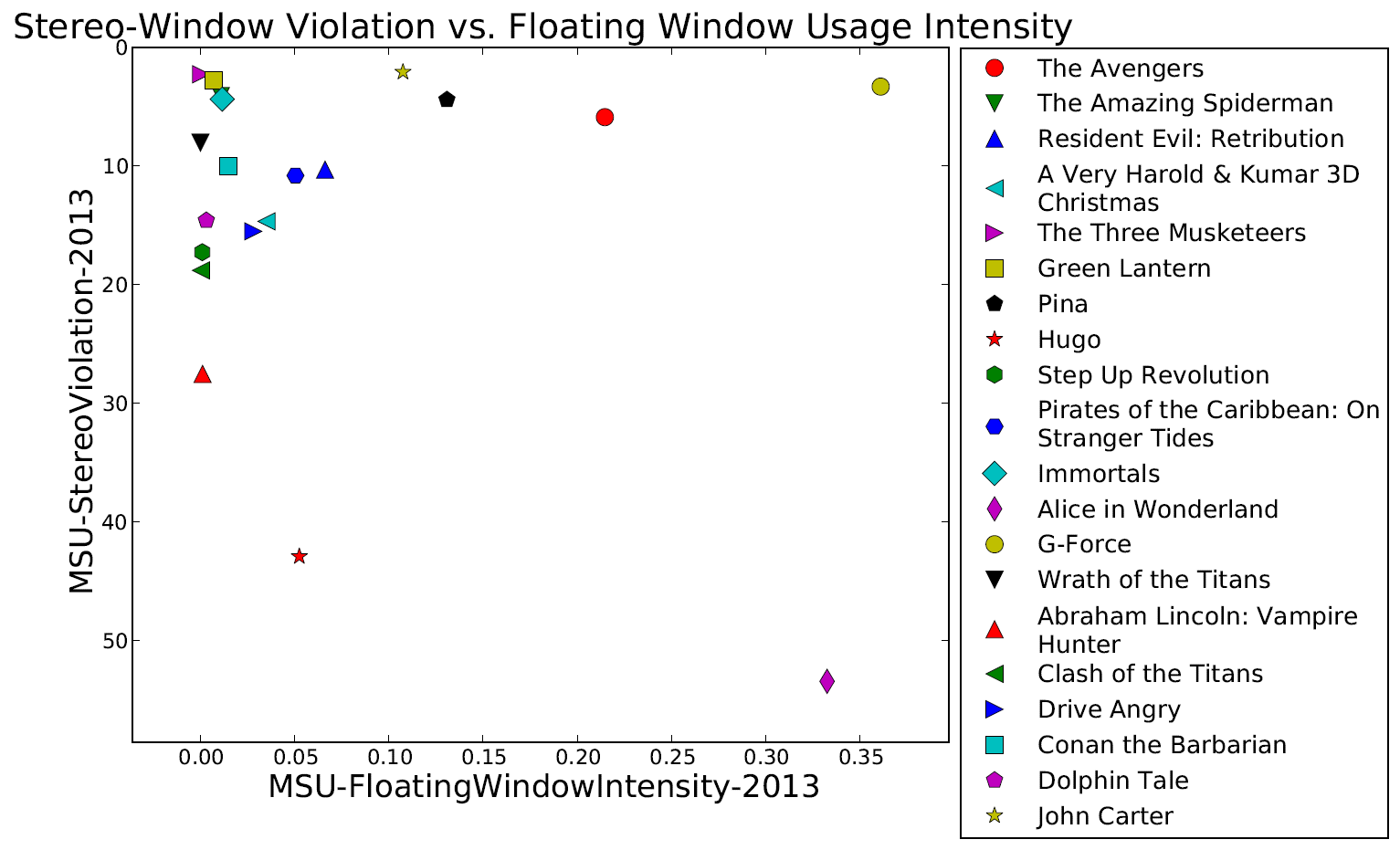 Stereo Window Violation vs. Closest Object Disparity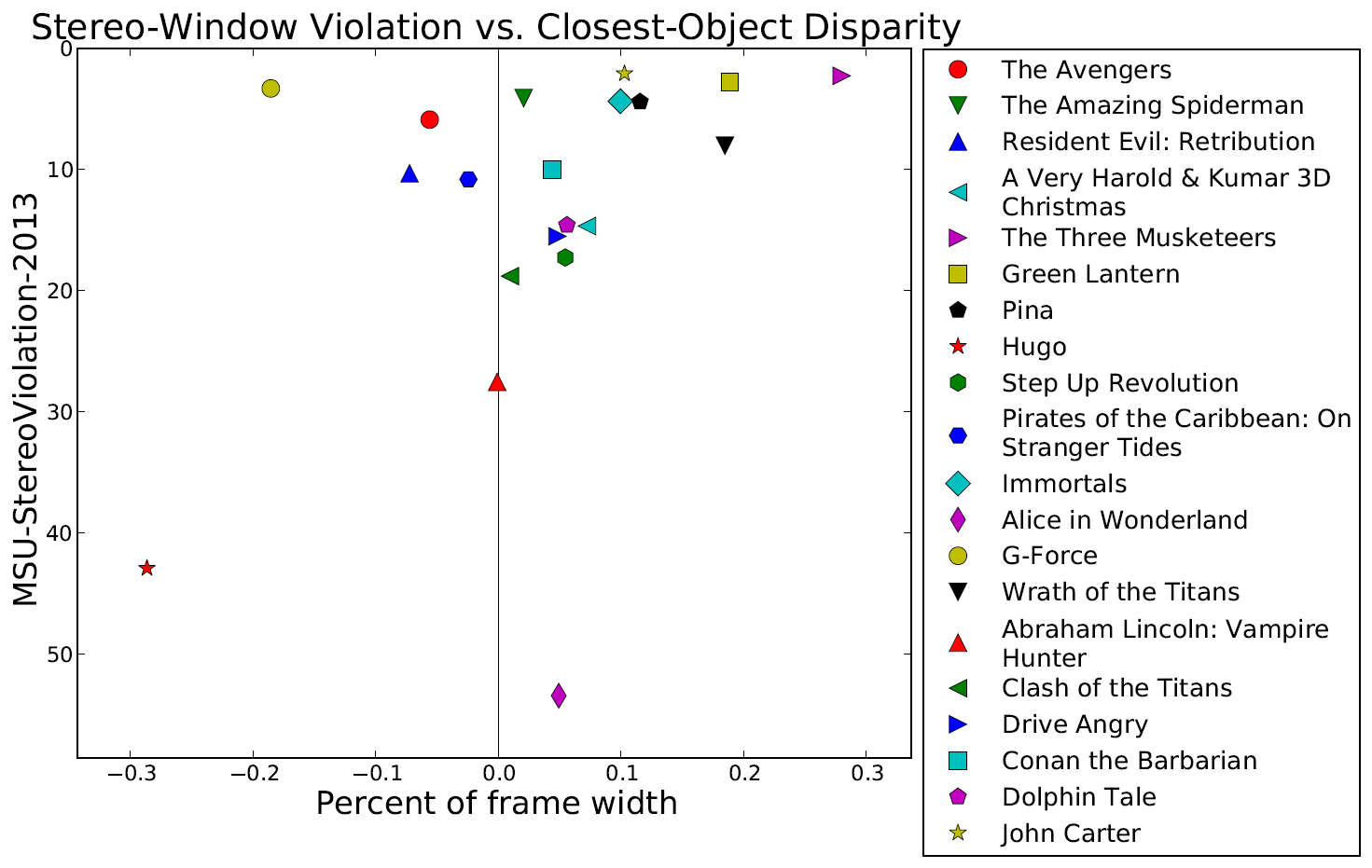 Publications
If you want to make a reference to this project, please refer to one of the following publications:
Reports overview
Stereo-analysis project description
Download
Full report (333 pages) is absolutely free but download is available only for industry professionals (due to publication of real mistakes in the post-production process).
To download the report, please fill-in the request form.
You will get the download link for all reports (Reports #1–11) via e-mail.
All materials in this evaluation are used for research purposes and in accordance with Fair Use conditions. This evaluation is not published widely, but it is available for free under a subscription for stereoscopy and cinema technology professionals.
Feedback
Contacts
For questions and proposition please contact us 3dmovietest@graphics.cs.msu.ru
See Also